Special Needs Swim Lessons in Santa Barbara and Montecito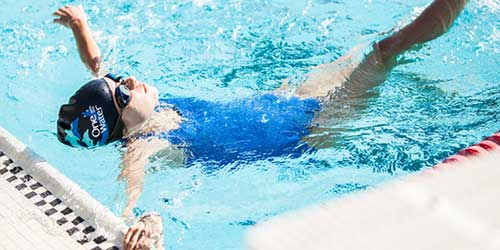 Many parents struggle to find a swim-lesson provider who is the right fit for their child with special needs because it's vital the provider is qualified, experienced, sensitive, and compassionate.
At One with the Water, our mission is to provide everyone access to the life-giving skill of swimming, especially children and adults with high risk, and high needs. Which is why we created the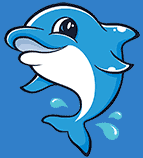 ~ Our Promise To You ~
In three easy steps, our world-class team will gently guide every Dolphin Swim Program student to become the best swimmer that they can be while building their confidence and resilience for overcoming life's challenges.

Step 1 Discover
With sensitivity and compassion, we begin with a discovery assessment of each student. We use mechanical engineering strategies to analyze body mechanics and form an approach based upon exercise physiology.

Step 2 Implement
The journey to mastery begins by gently building trust with your child; guiding them to relaxing and having fun in the water, creating the perfect mental and emotional learning environment. We gently guide the student step-by-step through every skill-building exercise while growing their courage along the way.

Step 3 Celebrate!
Becoming One with the Water is an achievement worthy of celebration! The One with the Water community will celebrate your child's success. Our instructors use this opportunity to be a positive role model to your child, building up their self-confidence, courage, and life-resiliency.
Ethan has Angelman Syndrome. Those with Angelman Syndrome are at the highest risk around the water. There are two symptoms of Angelman which together create the greatest danger. The first is movement and balance disorders, usually of gait and tremulous movement of limbs. The second is an attraction to and fascination with the water.
It took three summers, but Ethan is swimming!
The Dolphin Swim Program is helping Ethan and many others to be One with the Water and overcome the challenges of life.
Frequently Asked Questions & Pricing
Frequently Asked Questions - Special Needs
Below are some of the most commonly asked questions regarding our Special Needs Swimming Lessons. If you have any specific questions that are not answered here, contact us and we will be happy to answer them.
---
Which special needs are you trained to teach?
We offer semi-private and private special-needs swim lessons in Los Angeles for adults or children with special needs, English as a second language, and United States Service-Disabled Veterans. We are equipped to teach those with ADD & ADHD, amputation, anxiety, auditory processing disorders, Autism Spectrum (verbal/nonverbal), Cerebral Palsy, Down and CHARGE syndrome, Obesity, sensory integration issues, spina bifida, spinal cord injuries, and other disabilities.
Do you offer private swim lessons at my home pool?
One with the Water offers private lessons at your home. We do have a 45-minute minimum per lesson. Please choose the best package for you.
What does my child need for lessons?
A swimsuit and a towel is all that is needed. No flotation devices, flippers, masks, goggles, etc., are necessary. We can provide swim caps.
Should my child eat before the lesson?
Please, no food or drink at least ½ hour before a lesson. If your child does need to eat, it is best to eat without liquids—that way the food and nutrients are quickly absorbed.
Are the pools heated?
All of the pools we use are heated to a temperature of 82 - 86 degrees.
What days of the week are lessons available?
We teach every day of the week, and at public facilities depending on pool permit hours. We teach at several local pools year-round. We schedule the lessons around your calendar to meet your needs and help you reach your swimming goals.
How old does my child need to be to take lessons?
Parent and Me classes start at 4-months old, and most of our semi-private lessons are designed for children aged 18-months and up.
When and how do I pay?
Payment is due in full by the first day of class. Space is only reserved for those that have paid in advance unless you make prior payment arrangements. You may pay by cash, check or credit card. There are no refunds for cancellations or missed lessons.
How do you define Special Needs?
If your child requires any special accommodations that can only be provided in private lessons or by our Adaptive Sports Swim Team Coaches, then we can provide that, in accordance with Federal Law. Special accommodations are made for babies, all children under the age of 19, those who may have a fear of water, those unable to support themselves in the water, or any child that does not learn well in a traditional group class. Additionally, special accommodations are made for any unseen disabilities that can fall into any one (or more) of the following categories: Medical, Mental, or Psychological. In general, difficulties for individuals with special needs, struggle in areas of language (ESL), mobility, learning, and self-help. Some of the most common: ADD/ADHD, Anxiety (Social Anxiety, Separation Anxiety), Auditory Processing, Autism/Aspergers, Depression, Developmental Delays, Intellectual Disability, Sensory Processing, Language Disorder, Learning Disabilities, Obsessive Compulsive Disorder, Seizure Disorder, Emotional/Behavior Disorders (Oppositional Defiant Disorder, Disruptive, impulse-control, and conduct disorders, Intermittent Explosive Disorder), Neurological Disabilities, Physical Challenges, PTSD. This list is not inclusive. For further information on this, please read https://www.ada.gov/pubs/adastatute08.htm/.
What is the Coaching Philosophy at One with the Water?
At One with the Water, we teach swimming lessons using a Growth Mindset approach. This is a foundational pillar of our coaching philosophy. Pioneered by Dr. Carol Dweck, the Growth Mindset is predicated on the simple belief that while everyone's starting point may differ, our most basic abilities can grow and develop with consistent hard work and dedication. As authority figures, the messages we send to students and clients about success can often cause them to fall into the fixed mindset, as their success breeds a fear of failure. If success means they are smart/talented/brilliant/athletic, then failure means they are the opposite of all those things. At One with the Water, we praise our clients based on the growth processes used to perform – practice, study, effort, consistency, and persistence — and connect it to the outcomes, successful or not. And we are always developing new strategies and approaches. Because everyone is different. Because everyone learns in a different way.
What is your cancellation policy?
To help us fulfill our scheduling obligations, please be aware of the following cancellation policy. As a common courtesy, we ask that all cancellations be communicated via email or by calling the Swim Line at +1-323-364-SWIM (7946).  Please make every effort to attend all lessons. Pool space, insurance & instructors are booked 1 month in advance. Refunds are not issued for missed lessons. We can convert missed lessons into a tax-deductible donation.
If you cancel your registration more than 30 days before your lessons begin, you will receive a full refund minus a $25 processing fee, issued as a refund to your credit card unless you paid by check. If you cancel within 30 days before your lessons begin, we are unable to provide a refund but will work with you to schedule another session or convert your payment into a tax-deductible donation.
For the monthly membership fee, you are guaranteed either 4, 8, or 12 lessons, depending on the package in which you enrolled. For months with additional days, when 5 Saturdays, Sundays, or Mondays, etc. occur, the rate will remain the same. When a pool closure occurs and there are only 3 or 7 lessons, you will receive a credit to use in the upcoming month. Refunds will not be issued.
Cancellation by One with the Water® -  On the rare occasion that One with the Water® cancels a lesson, due to circumstances beyond our control (emergency pool closure, contamination, severe weather—we swim in the rain, swim meet, etc.), you will be entitled to a makeup lesson. We may substitute an instructor if necessary to avoid cancellation on our part.
What are your prices?
We have semi-private and private lesson packages and plans to best fit your needs. Please visit our scheduling page for more information.
Recent Testimonials
While we may not be able to stop society from labeling people as "disabled," we can (and do) teach our students that they are fully equipped to achieve great things!
Henry really responded to you, and looks forward to his class with you more than anything else right now. After the first swim class with you, he suddenly looked forward to and enjoyed swimming, as opposed to dreading it. He made huge strides, the biggest he has ever made, working with you.
Mallika is doing wonderfully these days. She's swimming independently now from one end of the pool to the other. She goes to swimming 3 times a week. And it's amazing to see her confidence in the water now. Thank you to you for all your hard work. It is really unbelievable what she is able to do now.
Register Now to Get Started with Swim Lessons in Santa Barbara
Santa Barbara & Montecito
Swimming Lessons in Santa Barbara & Montecito
7290 Davenport Rd.
Goleta, CA 93117
Call: 323-364-Swim (7946)