Swimming Lessons for Children & Adults
of any Age & Ability
Peace of Mind – for You & Your Child – Become One with the Water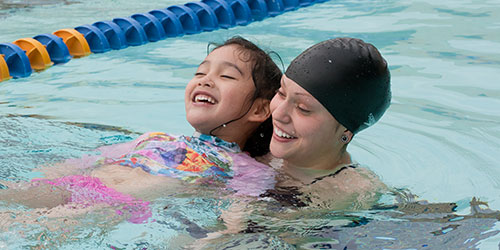 Have Fun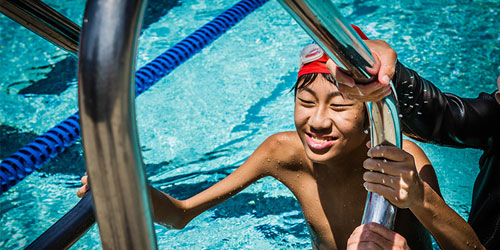 Build Confidence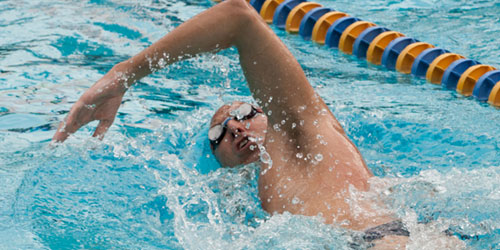 Gain Life Skills
Select Your Location to Start Your Local Swim Program
Getting started can often be difficult and confusing, so we created the three-step
One with the Water Easy Start Plan
1.

Select your Location
2.

Register for Lessons
3.

Start your Lessons
We believe that everyone deserves the opportunity to be One with the Water
We have formed a swim coaching dream team, making this belief a daily reality.
Our team is world class in both swim training and connecting with all children.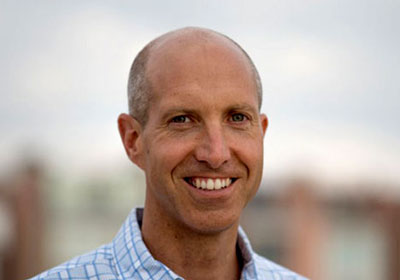 Kenneth Rippetoe
Founder, Adaptive Athletes Specialist, USA Swimming Coach, US Masters Swim Coach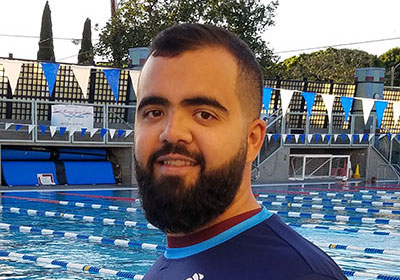 Mohammad Khadembashi
Team USA National Swimming Coach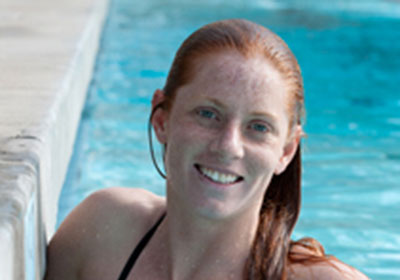 Lysandra Carter-Aaron
Adaptive Athletes Specialist, US Masters Swimming Champion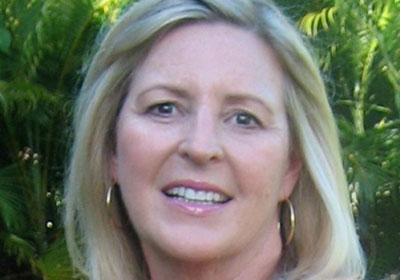 Silke Rogatko
Olympic Medalist, Adaptive Athletes Specialist, US Masters Swim Coach

Harmony
We use a gentle approach empowering all students to feel safe and comfortable in the water

Inclusion
Special Needs are our focus – our individualized training eliminates barriers

Mastery
All students are guided to master every fundamental swimming skill
Learn More About Our Most Popular Swim Programs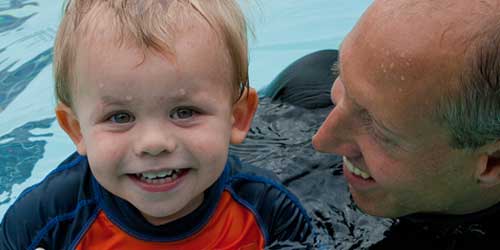 Kids & Babies Swimming Lessons
READ MORE
We believe that swimming is a life skill that all children should learn. By learning how to swim, we increase our understanding of the world around us. Swimming also equips us with skills that help us live better and could potentially save your life.
Learning to swim teaches us ways to cope with the challenges that come our way in life. The approach used by One with the Water provides success at any age. We empower your child, building their confidence and awareness of the water, teaching your child to swim as quickly as possible. Our swimming lessons for kids are scheduled to meet your needs. Register today and find out more about swimming lessons for kids!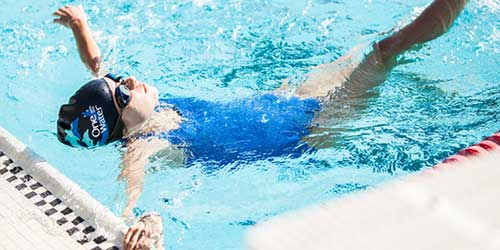 Special Needs Swimming Lessons
READ MORE
Our special needs swimming lessons for children and adults, the Adaptive Sports Swim Program for adults, and the Dolphin Swim Program for children are designed for persons with cognitive or physical challenges. No matter what your ability, we will help you to become the best swimmer you can be.
We offer semi-private and private swim lessons for adults and children with special needs, English second language, and United States Service-Disabled Veterans. We are equipped to teach those with ADD & ADHD, amputation, anxiety, auditory processing disorders, Autism Spectrum (verbal and nonverbal), Cerebral Palsy, Down and CHARGE syndrome, Obesity, sensory integration issues, spina bifida, spinal cord injuries, and other disabilities.
With sensitivity and compassion, we use mechanical engineering strategies analyzing your body mechanics to assist you in applying physics to swimming techniques. We will help you to become the best swimmer you can be. We specialize in special needs swimming and all special needs swim lessons are customized to the swimmers specific needs. Contact us today for more information on a specialized swim program to meet your special needs.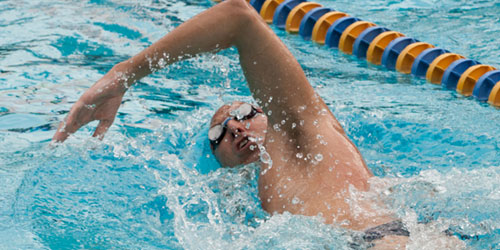 Adult Swimming Lessons
READ MORE
Are you shy or even embarrassed by your swimming skills? Don't be! Learning to swim later in life can be a fun and rewarding experience. Whether you are looking to learn to swim, conquer childhood fears, develop open-water swim techniques and strategies, or advanced stroke correction, our swimming lessons for adults provide a personal and customized swimming program which will allow you to become a strong swimmer regardless of your athletic skills, flexibility or body-type. Our swimming experts have been teaching since before 1985, as competitive swimmers and teachers. We will succeed, with compassion, in teaching you to swim.
How do we teach adults to learn to swim in just 4 lessons?
1. We are swimming experts. We teach the best and most efficient approach to the most pertinent skills of swimming: Breathing, Balancing, Kicking and Pulling. We break it down to simple achievable goals to help everyone succeed.
2. We get to know you as a person – your fears and your strengths. Instead of wasting time on building your weaknesses, we work with your strengths to achieve your goals quickly.
3. We make you feel comfortable and secure. We are certified and accredited coaches with 10,000 plus hours of experience. You are safe with us.
Swimming Lessons for Everyone
Do you want to learn to swim or improve your swimming skills for pool or ocean swimming? Anyone, no matter their age or ability, can learn to swim and improve their swim stroke technique at our swim classes for adults. We offer a variety of swimming lessons for adults. If you are interested in a custom swim program developed just for you, contact us. We specialize in custom swimming lessons for adults, so sign up today!
Thanks for your work with Connor. He wasn't quite able to swim before but is now swimming and comfortable in the water after just 6 lessons!
I am so thankful I found One with the Water! I have two boys, 6 and 8. One diagnosed with autism and the other one was so scared he wouldn't even put his toes in the water at his first lesson. Silke was so patient and gracious with both boys. Today was their 4th swimming lesson and BOTH of them were floating on their backs by themselves, going under the water, and my son with the autism diagnosis was swimming on his own! He looked up at me with a huge smile on his face and I couldn't have been more proud. I would HIGHLY recommend swim lessons from One with the Water.
I'll never forget my first swim lesson with Kenneth of One with the Water. He asked me to kick with a kick-board: I went backwards! As a 40-year old who desperately wanted to become a better swimmer I was extremely lucky to find Coach Kenneth. Six months later I am swimming 2000+ yards per workout and I am proficient in all four strokes. Coach Kenneth is an outstanding teacher and motivator. I feel so lucky to have trained with him.
Watch Angela's Amazing Success Story
At One with the Water, we understand that growing up can be tough. At times, it seems like there is no end to messages and influences which display unhealthy expectations.
READ MORE
Often one positive influence in a child's life can effectively change their whole life trajectory. How can swimming lessons bring this level of positive change? We believe that all kids and adults have the miracle within them. They just need a wise and gentle guide to lead them to believe that they are strong, capable, beautiful, and worthy of achieving their dreams.
This discovery led us to create our premier swim program, the –
One with the Water
Guided Mastery Program
This PREMIER three-step program is provided to EVERY swim student.
Step 1. Discover
Our professional staff will assess your individual needs.
We treat Every student as a unique individual.
Step 2. Implement
Our world class instructors will implement your swimming plan.
We take a gentle and individualized approach to all lessons. Through setting attainable lesson goals, our instructors guide each student to successive wins, empowering each student with increasing comfort and skill in the water, which in turn builds courage out of the water.
Step 3. Celebrate!
Join the One with the Water community as we celebrate your achievement and encourage your future success!
To Whom Will You Trust Your Swim Training?
Will you trust your swim training to:
A one-size fits all program?
Novice or seasonal instructors?
Instructors who lack the compassion, training, or experience for teaching all special needs people?
At One with the Water, our skilled staff of professional collegiate & Olympic swim instructors have one passion and make one promise to you –
We will gently guide every student to successfully become One with the Water.
Get Started Today!