Welcome to One with the Water®
We are excited that you have chosen to become "One with the Water!" I want to personally welcome you. At One with the Water, a 501(c)(3) non-profit organization, our mission and passion is to provide the lifesaving and transforming skill of swimming to everyone, particularly children and adults with special needs and limited resources.
"Swimming is our joy, self-expression and therapy – it's our life." ~ Coach Rippetoe
Helping YOU discover the wonders of swimming is our only aspiration, we have brought together expert coaches, dedicated staff, and first-class aquatic facilities to create an environment of success for all. Our swimmers grow to understand that they can do anything they put their mind to—they can become "One with the Water." Empowering our athletes with confidence and accomplishment is our joy and privilege, so thank you again for choosing One with the Water!
Additional information about One with the Water can be found through our social media sites. Please remember to like and follow us, and please visit those sites frequently for updated workout information, giveaways, and other exciting news.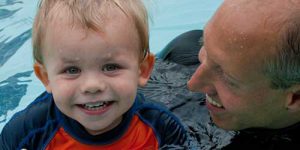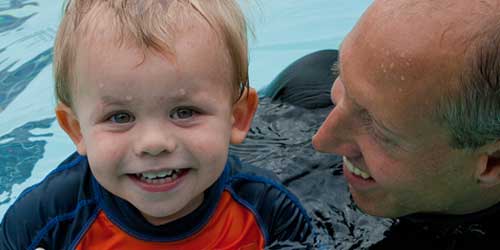 You will be receiving an introductory call from our Program Manager within 24 hours of completing this initial registration. We will help you to enroll in the program that best meets your needs and goals. We're happy to answer any questions you have regarding our programs. Please contact us by calling the office (323) 364-Swim (7946), or email (swim@onewiththewater.org).
During the call, we would like to learn more about you!
• What are your swimming goals?
• What would you or your child like to accomplish in the pool?
We will help you schedule your lessons and complete your registration by sending you a personalized registration link.
We know things come up and schedules change, but since our pool space, insurance and instructors are booked one month in advance, PLEASE MAKE EVERY EFFORT TO ATTEND ALL LESSONS. Make-up swimming lessons are not guaranteed, and refunds are not issued for missed lessons. We can convert your lesson credit into a tax-deductible donation.
I am happy to answer any questions you have about our teaching styles, methods, or any concerns you may have regarding participation in our program. Please note that I am unable to take phone calls during scheduled lessons, as I am in the pool. Any specific questions or calls directed to me may be returned after hours.
We look forward to helping you become One with the Water!
~ Coach Kenneth Rippetoe
Executive Director