Our Mission
One with the Water is a non-profit organization providing access to the lifesaving skill of swimming to everyone, especially children and adults with high risk, high needs, and limited resources.

We're Local
Your donations go directly to help local people with the highest risk of drowning, the most significant coaching needs, and the most limited financial resources. 100% of every dollar you give goes directly to swimming lessons for our neighbors in need.

We're People Builders
Preventing drowning is fantastic in itself. What's even better is the students enduring inward transformation from learning to swim. Their confidence increases, and their perspective on life improves!

We're an Open Book
We've earned the GuideStar Platinum Participant rating, their highest level of recognition. GuideStar documents the impact that organizations are making in the world. View our GuideStar profile.
Across our great land
There are countless people with unrestricted access to coastlines, lakes, rivers and swimming pools. Many of these people lack the resources for swimming lessons and are at high risk of drowning. In the state of California drowning is the leading cause of death in children between the ages of one and four.
We envision
communities where every child, adolescent, and adult of any income has the opportunity to become One with the Water and be confident, courageous, successful, and safe, both in and out of the water.
"Nicole was born healthy. For seven years, she was a normal, happy, vivacious girl – until the seizures started. At age seven, she was diagnosed with epilepsy, which spiraled rapidly out of control. Therapy, medication, nothing worked to slow her seizures, which culminated in a seizure that left her with permanent damage on her right side. When Nicole started swimming lessons with One with the Water, she rolled onto the pool deck in a wheelchair. Now, she walks onto the pool deck with her mother and brother each day, a huge grin on her face.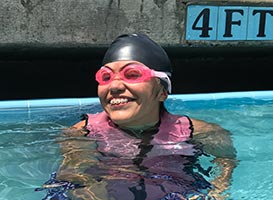 The benefits of swimming are evident in all her therapies, increasing her strength and mobility at a rapid rate. She loves the water most though, and for those 30 minutes each time, she works hard, stretching her arms across the lane, stitching uncooperative muscle fiber and wayward neurons back together. For Nicole, swimming has restored her in more ways than one."
We Need You
Since our founding in 2011, our loyal members have provided us the opportunity to teach swimming lessons to thousands of students.
While we celebrate every person who has become One with the Water through a scholarship, we realize there is much work yet to be done. We don't have the resources to reach everyone in need. You can help change that. You can help save and transform lives in your local community. Any donation amount makes a difference.
$180 a month provides a child access to the life-changing swim team preparing them for high school and college!
$275 a month teaches a special needs child the lifesaving skill of swimming.
$5,000 provides education and credentialing for our coaches.
$10,000 provides six months of pool access.