Our skilled swim instructors develop their swim lessons to meet your needs.
One with the Water® a 501(c)(3) non-profit organization, is the best swim school in Los Angeles because we can teach anyone to swim. Typical swim teams and swim instructors use a one-size-fits-all approach that doesn't always work for children with unique physical, cognitive, or visual challenges. Our lessons focus on safety, fun, and improved abilities.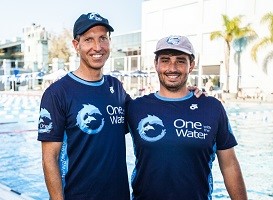 For the past 50 + years, our swim instructors have taught thousands of children how to swim. Our goal is to teach you or your child to swim in ten lessons or less. The approach we use provides 100% success, regardless of age. The methods we use to teach have been used by many swim coaches teaching over 100,000 kids to successfully swim. Our number one priority is to teach water safety and the life skill of swimming.
We maintain our certifications and our physical condition, to ensure you get the best swim coaches in the business. Our instructors continue to compete at the professional and amateur level, and most have competed at the collegiate level. We are prepared to train and instruct all swimmers to help them reach their goals, whether it be just a fitness activity or to compete as well!
At One with the Water, our lessons are not a one-size-fits-all coaching.
Every lesson is customized to fit your experience, personality, and strengths.
We are equipped to teach children and adults with: ADD and ADHD, Anxiety, Autism Spectrum, Down and CHARGE syndrome, Sensory Integration Issues, auditory processing disorders, amputation, Cerebral Palsy, Spina Bifida, spinal cord injury, obesity, and other disabilities.
Meet our Swim Instructors and Staff