Coach Kenneth, has been a lifeguard and taught swimming since the age of 16. His love of the water and helping others learn to swim is a passion you will see in his teaching. He started swimming competitively at the age of 13. Kenneth competed in intercollegiate swimming at John Brown University and he is a 1993 All-American, as a member of the 4 x 200 yard Freestyle relay team. He was a 1993 National Qualifier in the 100 yard Backstroke and the 200 yard Individual Medley. As a U.S. Masters swimmer, Kenneth set a FINA Masters World Record in the 4 x 100 short course meters relay, December 2009. Kenneth has 14 U.S. Masters Top Ten swims. He has worked as a swim instructor and lifeguard for over twenty-five years. He specializes in proper conditioning, training for longevity, and living a healthy lifestyle.
Coach Kenneth has extensive knowledge of the principles used in the field of Applied Behavior Analysis (ABA) and the ethical considerations involved in working with children with autism. He has completed training courses on working with kids with Autism and other special needs given by Kahlon Family Services and Inizio Interventions. Kenneth has completed teacher-training sessions with Shana Meyerson of mini yogis® yoga for kids and because of his life-long experience of teaching swimming lessons to children with special-needs, Kenneth has achieved the Level 5 Disability Swim Coach Certification with the American Swimming Coaches Association.
To supplement his swim coaching certifications and his own training, Kenneth is an avid lifter in the Starting Strength method. Since January 2015, Kenneth has been coaching the Starting Strength barbell training method. Adding strength training to your physical exercise program or swim program will make you a faster, more efficient swimmer. In swimming, strength training is required to catapult you to the next level. Whether you are trying to achieve goals for speed or endurance, Starting Strength is the safest way to success. It's the method he used before breaking a FINA Masters World Record in 2009.
Kenneth is a very active member of the swim community and spends most days being "One with the Water." If he is not training, coaching, or competing with the local Masters swim team, he is teaching or lifeguarding.
Coach Kenneth, originally from Texas, started "One with the Water" in Southern California. He comes to SoCal via New York, through Spain, Bolivia, Missouri, Arkansas, and Texas. Kenneth studied mechanical engineering and has worked over 15 years as a mechanical engineer. He has a Masters in Business Administration from Columbia College.
Kenneth has lived in Bolivia, Venezuela, and Spain, working as a volunteer for "sponsor-a-child" programs which provide education to children in developing countries. The projects he participated in gave sponsored children and their families opportunities to participate in skills training or livelihood initiatives so that they could begin to rely less on sponsorship, and more on their own abilities to provide for their families, creating an educated path out of poverty. This mission aligns with Kenneth's philosophy and integrates him as a perfect match for "One with the Water." He lives to help others achieve their dreams and believes that the pool is a magical place that levels the playing field… swimmers understand that they can do anything that they put their mind to, and become "One with the Water."
Certified Swim Coach Kenneth Rippetoe
American Swim Coaches Association (ASCA):
– Disability Certified Swim Coach: Level 5
– U.S. Masters Certified Swim Coach: Level 3
American Red Cross Certifications:
– First Aid for Public Safety Personnel (Title 22)
– Lifeguarding & First Aid
– CPR/AED for Lifeguards (Adult, Child, Infant)
– Administering Emergency Oxygen
Seminar Instructor and Coach:
– January 2015 – Starting Strength
– January 2016 – Starting Strength
– February 2019 – Deadlift and Power Clean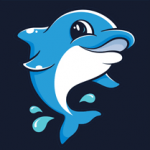 Kenny is a baby Bottlenose dolphin, of the genus Tursiops, one of the most common and well-known members of the family Delphinidae, the family of oceanic dolphin. He is very playful and friendly and loves to frequently leap above the water surface. Kenny plays with water toys, enjoys making bubble rings, and plays well with other dolphins or other animals.