Piotr Florczyk is a former world-ranked individual medley specialist. He represented Poland internationally, winning medals at European Junior Championships, and the Mission Viejo Nadadores in the United States, where he won silver and bronze medals at U.S. Nationals in addition to being named MVP at U.S. Junior Nationals. At the University of the Pacific he held school records in individual medley, freestyle, and backstroke events, and was named Big West Athletic Conference Athlete of the Year.
As a swim instructor, Piotr enjoys working with both children and adults, including triathletes and open-water swimmers. He is also available for long-term training plans consultation.
In addition to teaching swim lessons and coaching masters and age-group teams, Piotr has also taught poetry and literature undergraduate and graduate courses at SDSU, University of San Diego, Antioch University Los Angeles, University of Delaware, and at UC Riverside.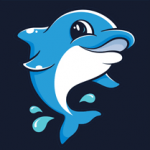 Kenny is a baby Bottlenose dolphin, of the genus Tursiops, one of the most common and well-known members of the family Delphinidae, the family of oceanic dolphin. He is very playful and friendly and loves to frequently leap above the water surface. Kenny plays with water toys, enjoys making bubble rings, and plays well with other dolphins or other animals.