It's been low key around here because we've been so busy this summer! That is a good thing though, and we want to let you know some of the big moments we had in June.
Coast to Coast
First, on June 3, One with the Water was a proud participant of Coast to Coast Swim, LA Tri Club's signature signature charity event, held to heighten awareness of the fact that drowning is the leading cause of death of children 14 and younger in California. 
"2018 is the eighth year for the Coast 2 Coast Swim Challenge and since its inception, this great event has touched the lives of over 4,800 children between the ages of 3 and 14 in underserved neighborhoods throughout Los Angeles county. Since the beginning of this event, 100% of the funds raised by swimmers have gone towards providing FREE swim lessons to those who apply and meet the criteria. 100% of the proceeds from the C2C pay for swim lessons aimed at reducing child-drowning accidents in LA." – From the website
We are thrilled to be able to partner with the LA Tri Club to support our passion and mission – plus it's always a really fun event!
"The Coast 2 Coast Swim Challenge has provided swimming lessons to hundreds of kids most vulnerable. Being able to participate in the event allows for donors to witness first-hand the difference they're making in the lives of children. It's a great event and we love helping swimmers to improve their stroke and give them a workout. It's a really big pool party! Except we're all swimming laps." – Coach Rippetoe 
Santa Monica Kiwanis Club
But there's more! On June 20, we were honored to receive a grant from the Santa Monica Kiwanis Club to support our primary mission.  We live to inspire others to do what inspires them. We help to create miracles in the lives of children and adults, including those with special needs, by teaching swimming lessons using Growth-Mindset techniques that empower kids to be successful in and out of the water. The grant provided by the Santa Monica Kiwanis organization will provide swimming lessons to Santa Monica children of low-income families and special needs.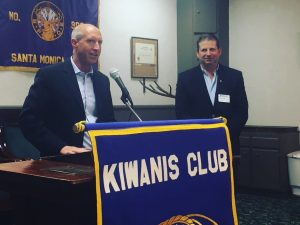 We are humbled and excited by the support from our own community. LA County has the highest number of near-drowning accidents of any county in the state and we are working tirelessly to help change that statistic, but we can't do it without you! If our mission inspires you the way it drives us, please consider donating today!
Donate Today
Molly is a member of our creative team, mom of four water-loving babies, and a fierce advocate for CPR training and really early swim instruction.