At One with the Water, we are passionate about ensuring equality of access and opportunity for athletes with special needs. The health benefits of swimming for individuals of all abilities have been well-documented, both here and elsewhere. And the research is clear on the mental and social benefits for the athlete. One study (among many) found that when participating in sports, adapted athletes believed they exceeded the expectations associated with their specific disability, specifically by the demonstration of a fit, muscular, and liberated body exhibiting physical skill.
More specifically, multiple studies conducted within the last 20 years provide substantial evidence of the physical and social benefits of swimming for children with ASD. Not only that, a recent study indicated that the risk of drowning for children with autism is 160x greater than the general population. That alone is a compelling argument for teaching children diagnosed with ASD the lifesaving skill of swimming.
Stephanie's Day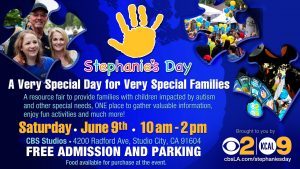 To that end, we are thrilled to be partnering with Stephanie's Day, 2018!
"Stephanie's Day is a resource fair that provides families with children impacted by autism and other special needs ONE place to gather valuable information, enjoy fun activities and much more!" – LA TIMES
Stephanie's Day was founded by Steve Mauldin 19 years ago in order to provide more resources to parents and families of children with an Autism Spectrum Disorder. It grew from necessity when his own daughter was diagnosed with Autism around the age of two and he realized how little support was available at the time. Now there are over 50 organizations participating to support local southern California families.
We'll be there too, on June 9th from 1-4 at CBS studios (4200 Radford Ave, Studio City CA) with stickers, fun activities for the kids and the chance to win a free swim lesson!
Donate
If you or your child has experienced the transforming power of life-saving swim lessons, consider donating to One with the Water! What we do matters because the evidence is clear. Swimming doesn't just have the potential to save lives, but to effect lifelong change for good.
Join us by donating to help us provide need based scholarships for high risk, high need children. When you donate to One with the Water, you impact a child's life on every plane – mentally, physically, and emotionally. For their lifetime.
Donate Today
Molly is a member of our creative team, mom of four water-loving babies, and a fierce advocate for CPR training and really early swim instruction.