We talk a lot about the importance of swim lessons for children and adults of all ages, but sometimes choosing the correct program can seem daunting. So we've got four very important things to look for when choosing the best swim program for you or your child.
Choosing the best swim program
First, check the coaches' credentials. According to the American Swimming Coach Association:
ASCA Certification means that coaches commit to a Professional Code of Ethics that has been in place much longer than the USA Swimming Code.  Each Level that you see reflected on our website reflects both academic training specific to swimming and the in-pool success of that coach's swimmers and the coaches' level of experience.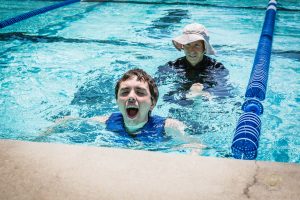 Second, look for coaches utilizing the growth mindset to foster successful athletes at all levels.  Dr. Dweck, one of the world's leading researchers in the fields of personality, social psychology, and developmental psychology, posits that we should be living life with a growth-centered mindset as opposed to a fixed mindset. In short,
In a growth mindset, people believe that their most basic abilities can be developed through dedication and hard work—brains and talent are just the starting point. This view creates a love of learning and a resilience that is essential for great accomplishment. – Carol Dweck.
For programs at the organizational level, a growth mindset is fostered when coaches introduce swimming skills as acquirable; when effort, practice, persistence, and passion are valued along with talent and results.
Third, and this may seem obvious, but check the testimonials and reviews. Talk to other parents, and hear their experiences with the individual coaches and programs. They can often offer valuable insight not readily apparent on a website. 
And finally, check the class size. Children with special needs, anxiety, or other difficulties in a group setting may need private or semi-private lessons to accommodate their needs. Make sure the program will provide the means for you or child to be successful in the water based on your specific requirements. (We offer both of the above, as well as group lessons, and private in-home instruction as well.)
One with the Water
We here at One with the Water want you and your children to live life rising to meet ever more difficult challenges. Swim with us and you'll see how effort, practice and persistence can help you become one with the water. We are staffed by professional swimmers, expert competitive swimmers, and former Olympians. Our founder and head coach Kenneth Rippetoe has a Level 4 Disability Certification with the American Swimming Coaches Association and has trained with Kahlon Family Services and Inizio Interventions to help children with Autism Spectrum Disorders and other special needs. We believe that everyone deserves the very best in swim instruction.
Molly is a member of our creative team, mom of four water-loving babies, and a fierce advocate for CPR training and really early swim instruction.