We are diving back into exercising through the pandemic! With public pools and local beaches still closed across Los Angeles and much of the rest of the country, we are sharing other ways you can benefit from regular aerobic exercise without access to a pool. Our hearts are always in the water, but quarantine is causing us to get creative. 
We started with an old favorite that requires no extra equipment – a brisk walk outside. Now let's talk cycling. Don't be intimidated by the thought of spandex or thousand dollar bikes! You can get the benefits of cycling without all the frills.
First, let's review the benefits of aerobic exercise, whether it be walking, swimming, or cycling.
Benefits of Aerobic Exercise
Physical and mental benefits: There are many physical and mental benefits to be had from moderate-intensity aerobic exercise. These include, but are not limited to the following.
Increased cardio efficiency (physical benefits) 

Improved muscle performance, both in flexibility and strength

Reduced levels of depression, anxiety, and stress. (Source)

An overall reduction in body fat levels.

And finally, an improvement in sleep. For many Americans, sleep problems have a crippling effect on their quality of life, as well as physical and mental health. But studies show that moderate aerobic exercise can counteract that effect. (Source).
Benefits of Cycling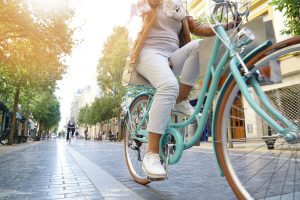 So what are the specific benefits of cycling, on top of all that we've listed above? As far as the physical benefits, it's another low impact exercise like swimming. (Not quite as low impact as swimming, and not recommended if you have a condition that affects your balance, but close.) Additionally, cycling can result in both increased joint mobility and improved coordination and posture. Not to mention, cycling is easy! No one is asking you to be Lance Armstrong here, just hop on a bike (with a helmet of course) and start pedaling. Depending on location and route, it's quite simple to vary the intensity of your workout to adjust to your skill and fitness level. And finally, it's also easily incorporated into a daily routine when you live in a city where cycling can replace commuting. 
The American College of Sports Medicine quantifies moderate aerobic exercise as 20-60 minutes 3-5 times a week. Don't let lockdown keep you down. Whether you are fortunate enough to swim in a private pool, you are circling the neighborhood on foot, or masked up and cycling to get groceries; the important thing is to be moving! 
Stay tuned for more at-home ways to stay fit and stay quarantined.
Molly is a member of our creative team, mom of four water-loving babies, and a fierce advocate for CPR training and really early swim instruction.