Over sixty organizations came together this year to participate in Stephanie's Day 2019, and we were so honored to be included in that number as a part of this incredible day. Sponsored by our very own CBS Los Angeles, hundreds of families streamed through the studio lots to access resources, information, and connections needed to care for their loved ones on the Autism spectrum.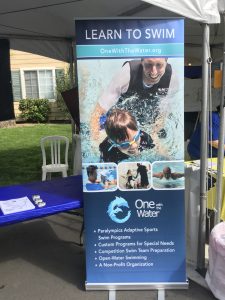 It's especially meaningful for us to be able to participate in Stephanie's Day for several reasons. First, as an organization, our mission is to ensure that EVERYONE has access to the lifesaving skill of swimming. Particularly for those with an Autism diagnosis, due to their increased risk around water. In fact, children with autism are 160x more likely to drown than their peers in the general pediatric population. (The risk increase is due in large part to their affinity for water and propensity for wandering).
The number one intervention to reduce the risk? Swim lessons.
The second reason we are so excited to be involved is our coaches' extensive training in coaching children on the spectrum, as well as other individuals with a broad range of special needs. Head Coach Kenneth Rippetoe just recently received the Level Five Disability Coach designation from the American Swim Coaches Association. Additionally, he has extensive knowledge of the principles used in the field of Applied Behavior Analysis (ABA) and the ethical considerations involved in working with children with autism. As a staff, we are equipped to teach children and adults with ADD and ADHD, Anxiety, Autism Spectrum, Down and CHARGE syndrome, Sensory Integration Issues, auditory processing disorders, amputation, Cerebral Palsy, Spina Bifida, spinal cord injury, obesity, and other disabilities.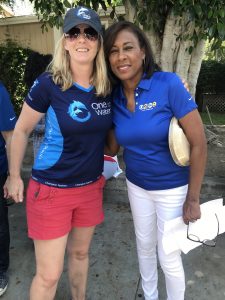 After talking myself hoarse, hugging local celebrities (Thanks Pat Harvey and the Rams Cheerleaders!), handing out all the postcards, and meeting the most incredible humans, I'd call Stephanie's Day a win for One with the Water, but it's so much more than that for all the families impacted.
One final note – If you or someone you know is a caregiver for someone on the Autism Spectrum, we'd love to be a part of your journey to safety and success in the water! Start here to register for premium swim lessons.
Molly is a member of our creative team, mom of four water-loving babies, and a fierce advocate for CPR training and really early swim instruction.