I started something new at the age of 39. Now, I already know how to swim, so it wasn't that. (It was martial arts, in case you are interested.) I signed up for Tai Kwan Do with my children, who've been doing it for a while now. It's something I've wanted to do for years but was too embarrassed to try. Silly, right? But the feelings are real.
I did it anyway, and at the end of an hour, I was sweaty, exhausted, and felt so empowered. I couldn't stop smiling. The point? Starting swim lessons at any age does more than just teach you the life-saving skill of swimming.
Three reasons you need adult swim lessons.
First, it's incredibly empowering to conquer your fear, embarrassment, or any other emotions holding you back. When you adopt a growth mindset to overcome fear, you are operating with the understanding that your abilities are flexible, rather than fixed. This, in turn, leads to increased effort when faced with obstacles or setbacks.
Second, the health benefits of swimming can help add years to your life. There are countless studies outlining the many ways swimming has a positive impact on your health. Here are just a few, among many.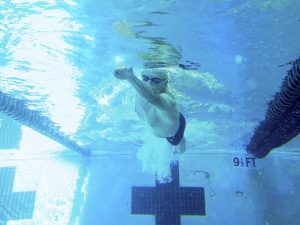 Improves cardio function without the stress of impact sports
Helps maintain a healthy weight
Improves endurance
Tones muscle and builds strength
Alleviates stress and can help in reducing depression and anxiety
And finally, learning a new skill later in life can actually increase cognitive function as you age. In fact, one study shows specifically that moderate aerobic exercise three times a week actually increased the size of the hippocampus region in the brain, improving cognition, and helping with activities like planning, scheduling, multitasking, and memory.
At One with the Water, we fully grasp the importance of all adults advancing their swimming skills, which is why we created the Guided Mastery Swim Program. Our instructors have used these methods to teach thousands of students to master their swimming skills with 100% success.
By helping you become One with the Water, we help you to live a healthier, happier life.
Molly is a member of our creative team, mom of four water-loving babies, and a fierce advocate for CPR training and really early swim instruction.