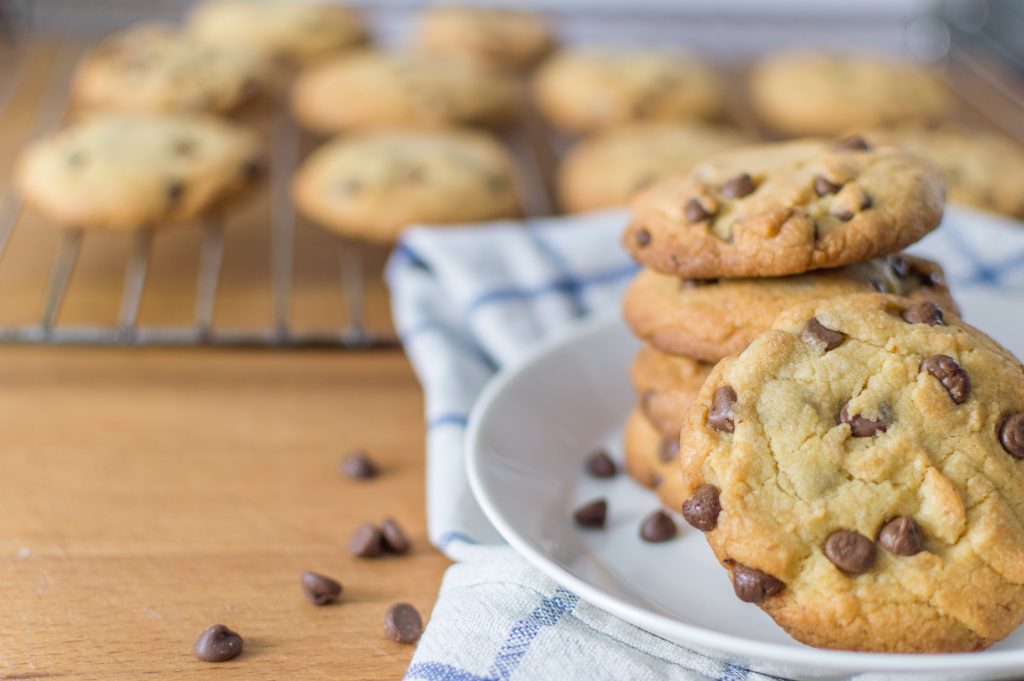 Listen, we talk a lot about nutrition on here, and healthy food choices to go in concert with your active lifestyle. But sometimes, you just need a chocolate chip cookie. So I present to you the last chocolate chip cookie recipe you'll ever need plus a few extra calories to go swim off. (Recipe adapted from Forme-Foryou.com)
Ingredients
2 cups minus 2 tablespoons cake flour, about 8 1/2 oz*

1 2/3 cups bread flour, about 8 1/2 oz*

1 1/4 teaspoons baking soda

1 1/2 teaspoons baking powder

1 1/2 teaspoons coarse salt, such as kosher

2 1/2 sticks unsalted butter, softened, 1 1/4 cups / 10 ounces

1 1/4 cups light brown sugar, 10 ounces

1 cup plus 2 tablespoons granulated sugar, 8 ounces

2 large eggs

2 teaspoons vanilla extract

1 1/4 pounds bittersweet chocolate chips or chunks, preferably about 60% cacao content, such as Ghirardelli

Sea salt or kosher salt for garnishing
Instructions
Combine flours, baking soda, baking powder, and salt in a bowl. Whisk well; then set aside. Using a mixer fitted with a paddle attachment, cream butter and sugars until very light and fluffy, about 3 to 5 minutes. Add the eggs, one at a time, mixing well after each addition. Mix in the vanilla. Scrape down the sides of the bowl with a rubber spatula as needed.
Reduce the mixer speed to low; then add dry ingredients, and mix until just combined. (Unless you have a plastic guard that sits around the rim of the bowl, this will make a big mess at first, with flour flying everywhere.) Add the chocolate chips, and mix briefly to incorporate.
Press plastic wrap against the dough, and refrigerate for 24 to 36 hours. The dough may be used in batches and can be refrigerated for up to 72 hours.
When you're ready to bake, preheat the oven to 350°F. Remove the bowl of dough from the refrigerator, and allow it to soften slightly. Line a baking sheet with parchment paper or a nonstick baking mat.
Using a standard-size ice cream scoop – about 3 fluid ounces, or about 1/3 cup – scoop six mounds of dough onto the baking sheet, making sure to space them evenly. Sprinkle lightly with sea salt, and bake until golden brown but still soft, 15 to 20 minutes. Transfer the baking sheet to a wire rack for 10 minutes, then transfer the cookies onto the rack to cool a bit more.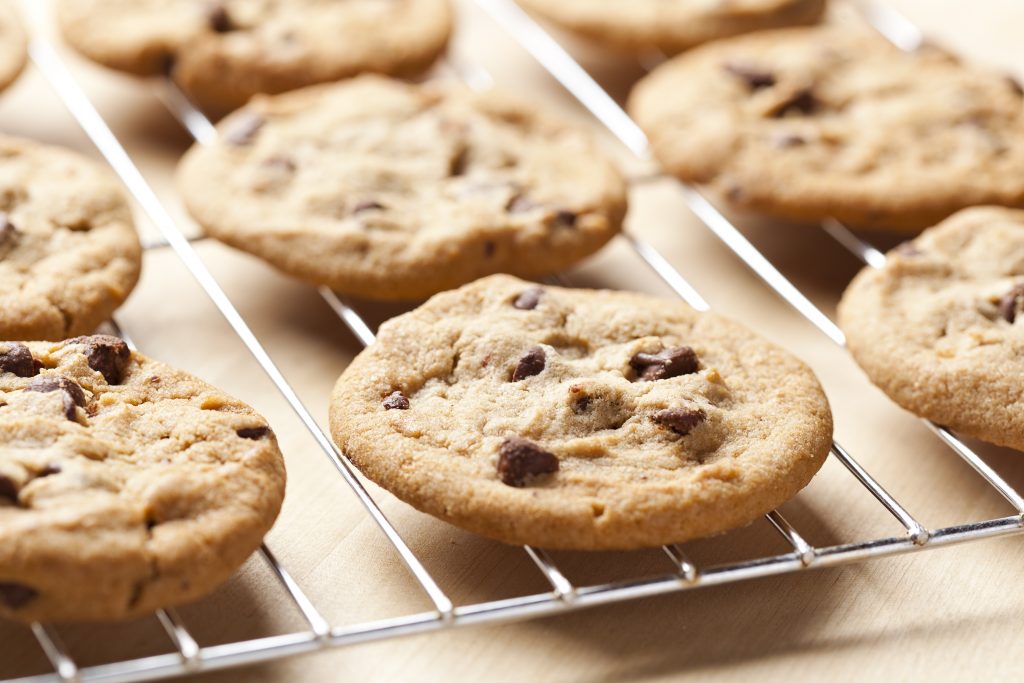 Secret 1: The use of a mix of cake flour and bread flour. Cake flour is finer, and bread flour has gluten, both important. Use them and no other.
Secret 2: Chilling. This is key — KEY! — to cookie texture success. The reason is that letting the dough rest allows all the eggs and the butter and the liquids to ooze and soak and hydrate into all the dry goodness. 24 hours is minimum, 36 is preferable (and noticeably better).
Secret 3: All ingredients. Room temperature. Do it.
Secret 4: Did you know? People make their cookies way too small. If you make them too small, they dry out too quick, and they get too crunchy. We want gooey and chewy! The way to achieve that is to scoop your dough out into golf-ball sized — or slightly larger — portions. Use a 1/3 cup measuring cup for extra big cookies.
Secret 5: The chocolate. Ghiardelli 60% Cacao chips — they're pretty widely available the best chips you can buy at a grocery store. However, if you run across anything that is 60% cacao, it'll be good.
Secret 6: The sprinkle of salt on the top. Makes all the sweetness sing.
Secret 7: Always err on taking them out too early rather than too late – also essential for middle-softness. They continue to cook on the sheet for a few minutes, so don't overdo it – underdone is better than overdone, every time (and you can always pop them in for a minute more if you like).
Now enjoy!
Molly is a member of our creative team, mom of four water-loving babies, and a fierce advocate for CPR training and really early swim instruction.