We've trumpeted the lifesaving nature of swim lessons for young children and toddlers time and again, but keeping your teen safe in the water is just as important.
In fact, for all ages under 85, young people between the ages of 15 and 24 have the highest rates of drowning nationwide, and these typically occur in natural water settings, such as oceans, lakes, and rivers. Additionally, an astonishing 80% of those are male. 
So how do you protect your teen from drowning? Follow these seven simple, common-sense tips to keep your child from being a statistic. 
7 Water Safety Tips For Teens
In a boat, wear a lifejacket. Sounds simple, but as mentioned, most of these drownings occur in natural bodies of water. Protect yourself and your loved ones by adding this layer of protection when boating. 

Don't allow your teen to swim alone. Most of the drownings in this age group occur when children are swimming without adult supervision. Never let your teen swim alone or hang out near water without adult eyes on the situation. 

Additionally, when at the ocean, pay attention to posted swim warnings. Don't go in the water without lifeguards and avoid dangerous undertows. 

Water safety is a family affair! Both you AND your teen should learn CPR. Be prepared to assist in an emergency. (I can't emphasize this enough after my own experience with almost losing a child to drowning. Every adult should know CPR.

Inflatable life rafts do not count as a life preserver. Please do not rely on them to keep your child safe. 

Teach your teen to be smart in the water. Choose safe places to swim and scout the area for submerged dangers. Learn to recognize when hidden obstacles or powerful undertows could be present. Don't drink and swim. 

Finally, learn to swim! Swim lessons can reduce the risk of drowning by up to 88%. Know what to look for in a swim instructor (Not sure? Read this.) and follow up with premium swim lessons that will help your child to succeed both in the water and out.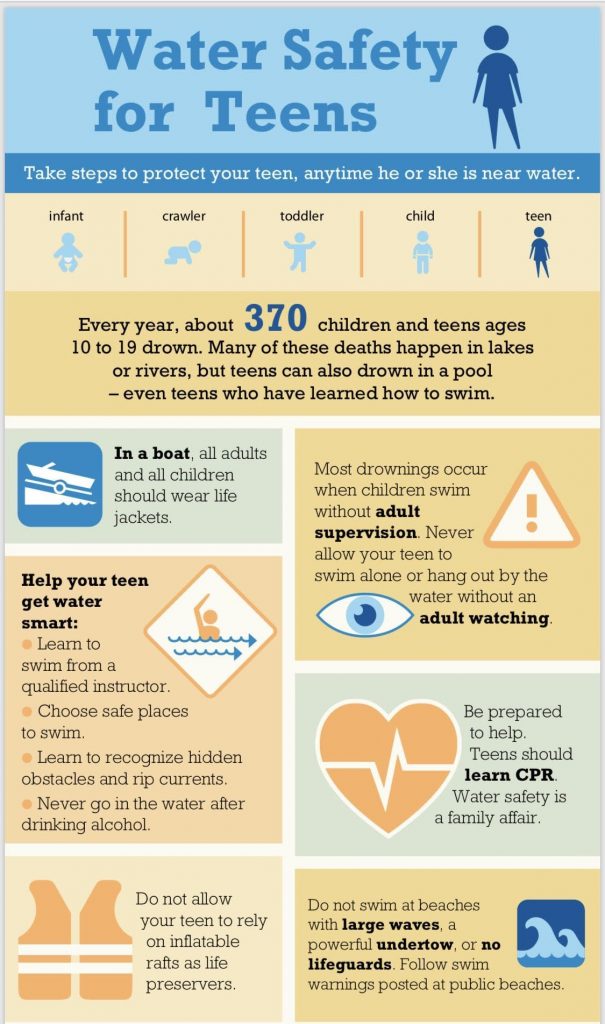 Parenting is hard. Keeping your children safe in seemingly scary times is hard. But we do have the tools, and we would encourage you to keep using them. Follow us here on the blog and Facebook for more safety tips, quality coaching, and swimming news. 
Molly is a member of our creative team, mom of four water-loving babies, and a fierce advocate for CPR training and really early swim instruction.